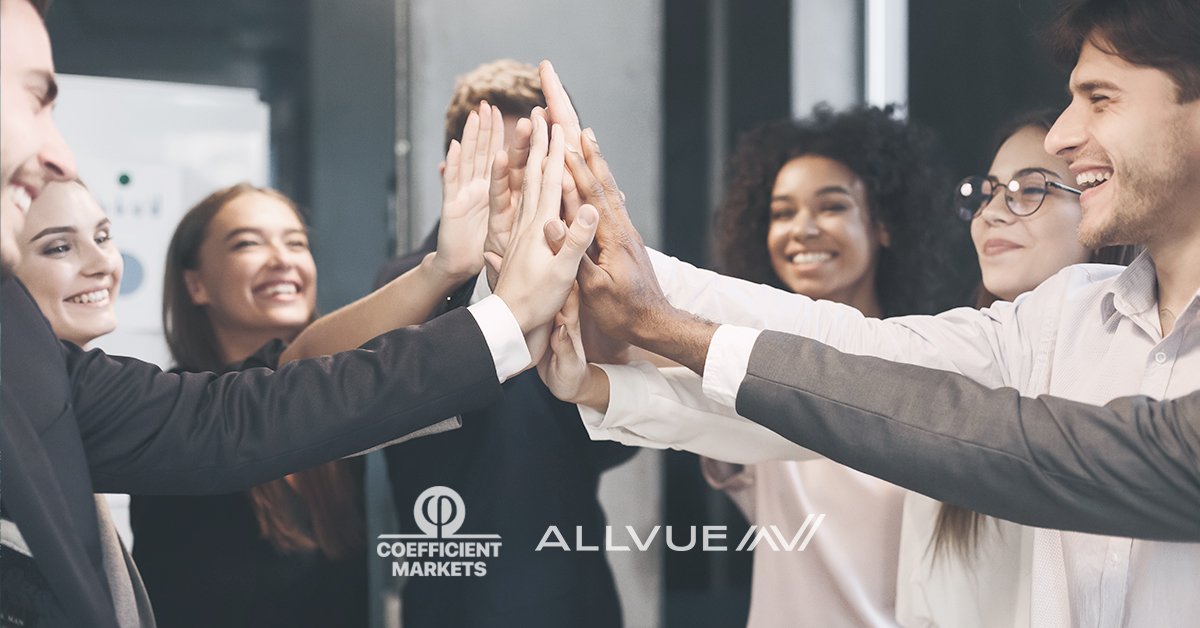 Coefficient Markets Completes Its Integration with Allvue's Front Office Solutions

A direct connection has been established between Coefficient's sell-side product EPIC and Allvue's Front Office solutions with Invesco's portfolio managers and traders as the inaugural users.

New York, NY, March 22, 2023 – Coefficient Markets ("Coefficient"), a leading financial technology provider for leveraged loans, and Allvue Systems ("Allvue"), a leading alternative investment technology solutions provider, are pleased to announce that they have completed the full integration of Coefficient's leveraged loan market liquidity data into Invesco's Front Office Trade Order Management systemprovided by Allvue.

Starting today, all market price and liquidity from dealers using Coefficient's EPIC sell-side software is being sent to its EPIC Mirror buy-side product and then delivered directly into Allvue's Front Officeplatform. Portfolio managers and traders at Invesco are now able to view real-time prices and actionable liquidity along with their investment information. Traders can click a link in Allvue's platform to engage dealers directly through EPIC Mirror. Invesco is the first firm to begin engaging with this solution, following the launch of Coefficient's and Allvue's partnership in December 2022.

"The connection between EPIC, EPIC Mirror and Allvue Front Office is the realization of our goal of providing a complete end-to-end trading solution for the leveraged loan market," said Brian Callahan, CEO of Coefficient. "Invesco will benefit from digitized market data and streamlined trade execution by having a direct link with sell-side dealers."

"Allvue is the only platform where portfolio managers can view live loan liquidity data alongside their portfolio information, workflows and Compliance metrics" said David Lazar, Product Manager of CLO and Public Credit Products at Allvue. "Allvue's front-office users can react quickly to the real-time liquidity data via a seamless and integrated workflow, providing them with a key competitive advantage over their peers that are not on the Allvue ecosystem."

Allvue is working with its client base to integrate Coefficient's data directly into their Allvue environments. The firm also offers straight-through-processing of completed trades to further simplify the operational process.  

Coefficient is currently onboarding several dealers to its EPIC platform and expects to make announcements regarding this progress in the coming weeks. The Company plans to open its web-based EPIC Mirror platform to the entire buy-side community in early Q2.

About Coefficient

Coefficient was founded in 2021 to address many of the longstanding technology challenges of the syndicated corporate loan market. Coefficient's systems harmonize and standardize data from many disparate sources to streamline workflows from end to end.

Coefficient develops technology and workflow solutions in partnership with Etrading Software, a London-based technology and managed services firm. ETS specializes in building and managing multi-party financial workflows and technology across the Fixed Income Markets. Coefficient leverages Etrading Software's technology development, platform business management, as well as its deep knowledge and expertise of the financial markets, to deliver intuitive front office solutions that can be seamlessly tailored and scaled across use cases.

About Allvue

Allvue is a leading provider of technology for investment managers in the private capital and credit markets industry, including 20 of the 25 largest CLO Managers. Its mission is to empower superior investment decisions by pairing modern cloud-based software solutions with capabilities across multiple asset classes. Allvue's software solutions serve the entire investment lifecycle and are seamlessly integrated to provide a comprehensive product suite, serving investment managers of all sizes worldwide, including general partners, limited partners, fund administrators, and banks.

Allvue was established in 2019 through the merger of Black Mountain Systems and AltaReturn, two leading providers of investment technology solutions. Allvue is based in Miami, FL with locations throughout North America, Europe, and Asia-Pacific. With a commitment to innovation and a focus on multiple asset classes, Allvue's software solutions allow its clients to operate and grow their businesses more effectively by automating manual processes, improving data accuracy and consistency across workflows, and delivering enhanced analytics.