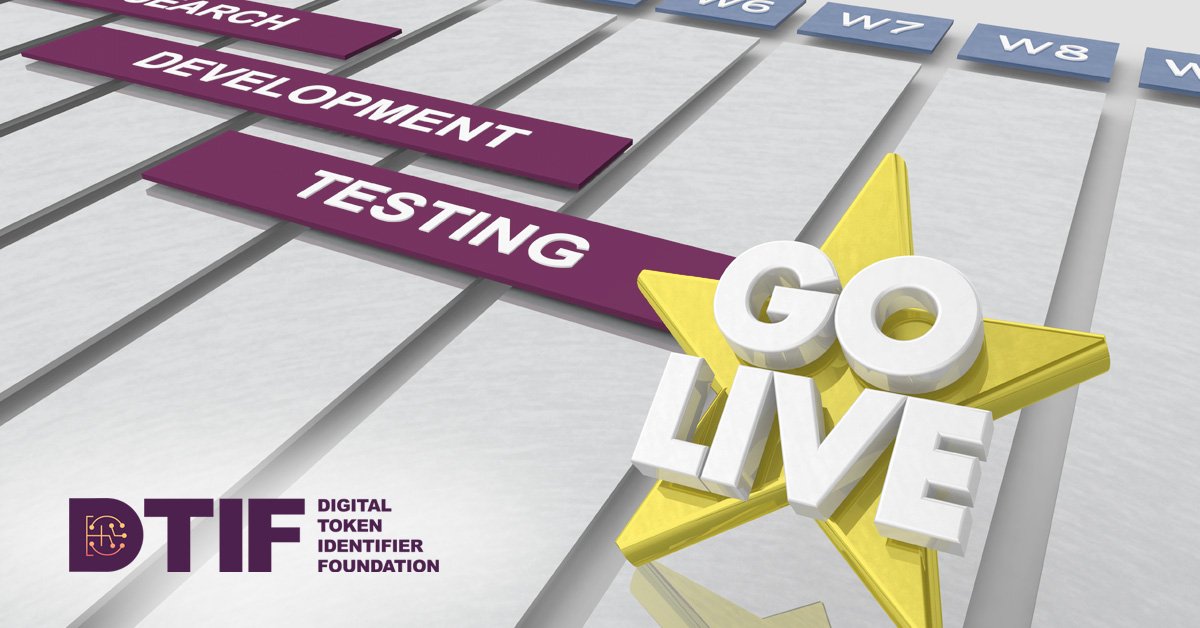 Digital Token Identifier Registry Goes Live
with Etrading Software's non-profit Digital Token Identifier Foundation
London, 1st July 2021 – Etrading Software (ETS), global provider of technology-led solutions, acting as exclusive Registration Authority for the new International Organization for Standardization's (ISO) standard for Digital Token Identifiers (DTIs), announced the DTI Registry which will assign ISO's DTI Identifiers to digital tokens globally, goes live today.
Etrading Software's Digital Token Identifier Foundation (DTIF), a non-profit division of the company, is responsible for the DTI Registry. The foundation's mission is to provide the golden source reference data for the unique identification of digital tokens based on ISO's new standard for digital assets, ISO 24165. The launch is ahead of the ISO standard that is scheduled to be published in Q3 2021 to meet urgent industry and any regulatory need.

Sassan Danesh, Managing Partner of Etrading Software, said, "The purpose of the DTI is to address the demands of exchanges, custodians, financial institutions, and regulatory authorities for a registry and identifier assignment process for digital tokens, to mirror the use of ISINs and UPIs in the digital asset space. DTIs will bring many benefits to users of this burgeoning asset-class, from improving liquidity, allowing for easier identification of counterparties, facilitating price discovery and improving the operational efficiency of post-trade processing. We are pleased with how the DTI is being received by industry."
"Global Digital Finance (GDF) welcomes the launch of the ISO Digital Token Identifier", said Lawrence Wintermeyer, Executive Co-Chair of GDF, adding, "This new industry standard, when adopted by digital asset service providers, data providers, and regulators, will contribute, alongside the GDF Code of Conduct, to the mainstream adoption of digital assets in an orderly and standardized way."
Dominique Tanner, Chairman of ISO TC 68/SC 8, said, "ISO TC 68/SC 8 is glad to see this exciting development, meaning over a 100 digital tokens can now be uniquely identified based on objective, verifiable information. The underlying data used to assign identifiers has been made public on the DTIF website. This is an important step for the industry in being able to unambiguously identify digital assets, in a standardised way."
Rudolf Siebel, MD, BVI German Investment Funds Association, said,"Standardising the identification of digital assets will bring a host of benefits for industry, by reducing ambiguity, increasing transparency and consistency, and lowering the bar for greater institutional investment in this burgeoning asset class. We are pleased the next stage of the DTI process brings this standard closer to helping the market."
Tony Pettipiece, Global Digital and Cryptocurrency Association's (Global DCA) Board of Directors, Policy and Regulation, said, "This standard will create a foundation for growth while also providing for straight-through-processing and global interoperability across the ecosystem for the registration, classification, issuance, trading, settlement, accounting and regulatory reporting of the nascent asset class. The Global-DCA is excited to be working with the DTI, ISO/TC 68/SC 8, and the broader, digital asset community to help shape this and other standards, because standards are a necessary step toward realizing the societal benefits of cryptocurrencies and digital assets."
The DTIF has pre-seeded the registry with 100 tokens, and over 70 fork records associated with these tokens. It will continuously be adding and verifying the normative and informative token data in preparation for the full launch. The scope of DTI issuance is all fungible digital assets which use distributed ledger technology for their issuance, storage, exchange, record of ownership, or transaction validation and are not a "fiat" currency (as defined by ISO 4217). More information is available by subscribing to the DTIF newsletter to follow the DTI registration progress. Please contact us if you have any questions on the data in the registry.