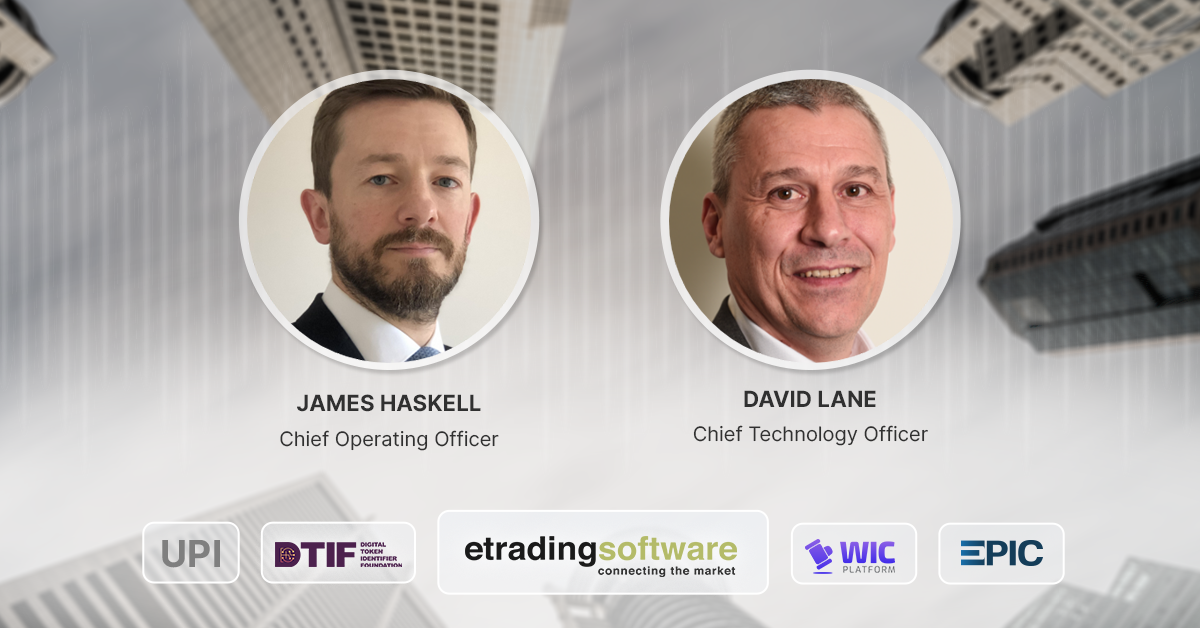 Etrading Software Expands Platform Technology Business Partnerships

Appointing James Haskell as COO and David Lane as CTO in growth of company management team

London, 9th February, 2022: Etrading Software, the global provider of technology-led solutions to address highly complex and constantly evolving market and regulatory challenges, is now expanding its platform technology business with partnerships on new products and sectors. To accompany this move, the company is making a number of appointments to grow the senior management team, including James Haskell as new COO and David Lane as the new CTO, both of whom are joining the board of Etrading Software.


Etrading Software continues to develop its core business of providing technology solutions and management services for new capital markets infrastructure platforms, to assist market participants and public authorities in the implementation of new global regulatory and data standards such as the Unique Product Identifier (UPI) and ISO's new digital asset standard, the Digital Token Identifier (DTI).  


Today's announcement highlights how the company is also increasingly partnering with clients, through technology, to deliver products which build on Etrading Software's experience in the full life cycle of a start-up from idea generation, investment, planning, building, operating and governance.


Etrading Software is creating more technology platforms with partnerships in the markets space, such as the EPIC platform, and the WIC platform in the loans space and an expansion through the DTI into the digital asset world. Loans platforms are bringing much needed digitisation and automation to loan trading workflows, as are partnerships with loan market participants. The WIC trading platform, for example, is the latest step toward electronification of manual, error prone workflows for the loan market, providing market participants with an automated, reliable and user-friendly choice when trading loans. The company continues to focus on the intersection of technology, workflow and data, creating platforms which allow users to leverage the power of their own data as well as third party data feeds and connectivity to make better trading decisions and connect to their clients, and is again partnering with market participants to make this happen.


The growth in the company's senior management team supports this expansion, with the appointment of James Haskell as COO and David Lane as CTO of the company. Commenting on his appointment and the new additional core company priorities, James Haskell, COO of Etrading Software, said, "I am thrilled to be the new COO of Etrading Software. I have been working with the team at Etrading Software for some time as we design, build and operate technology solutions allowing clients to keep full governance and control using transparent and vendor-neutral solutions. I am excited to continue the expansion in this relatively newer space for Etrading where we are increasingly responding to requests to build the technology platforms in an equity partnership with our clients, so we can offer efficient products which are tailored to clients' specific needs and ensure we are aligned with the growth and success of our partners."


David Lane, Chief Technology Officer, said, "I am looking forward to working with existing and new clients in building products through partnerships which bring efficiencies to the market in even more asset classes. We will be working more in the equity space to deliver exciting new solutions, and I am delighted to be representing Etrading Software, as CTO, to push through best technology developments that are right for each use case."


To facilitate the evolution of strategy and their continued growth Etrading Software has just moved to new larger offices, remaining within the City of London's financial district.