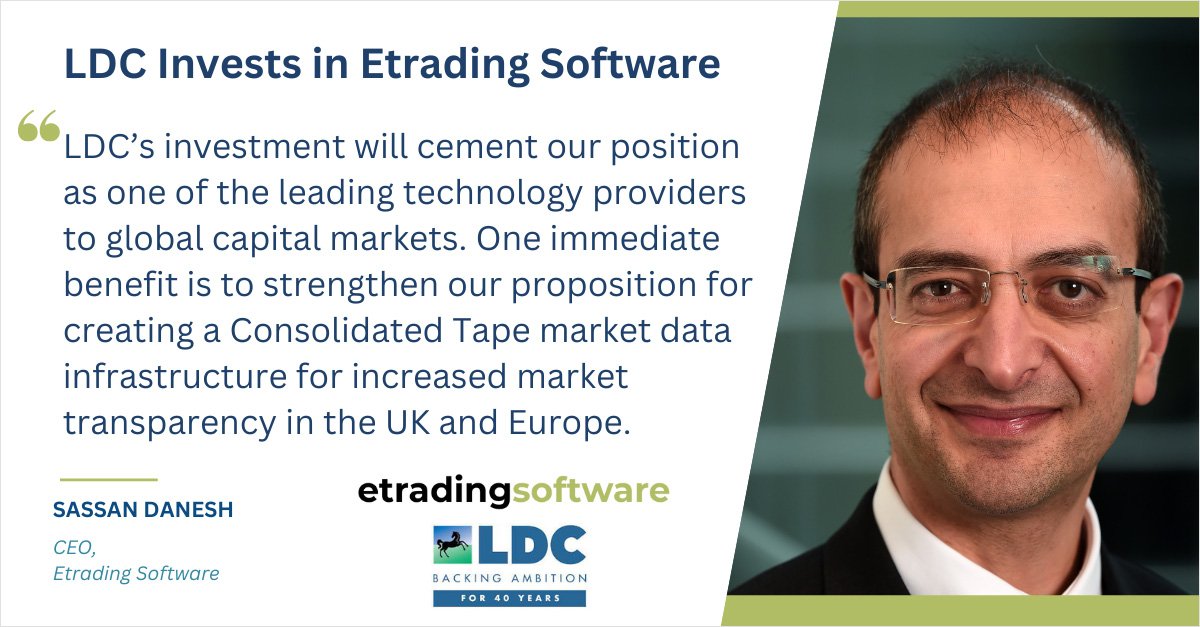 LDC INVESTS IN ETRADING SOFTWARE

Investment enables additional services to increase market transparency and financial resilience in the capital markets.

London, 12th December 2022: LDC, the private equity arm of Lloyds Banking Group, has made a significant investment in capital markets technology firm Etrading Software, a global provider of technology-led solutions to address highly complex and constantly evolving market and regulatory challenges. Etrading Software specialises in the provision of market and reference data used by international financial institutions. It is the primary service and technology provider to the Derivatives Service Bureau (DSB), the global numbering agency for over-the-counter (OTC) derivatives – a market the Bank for International Settlements valued at $2.5tn at the end of 2021.

Headquartered in London, Etrading Software's role as Management Services Partner (MSP) to the DSB was recently expanded to include a new mandate awarded to the DSB to operate the service that will generate Unique Product Identifiers (UPIs) – an identifier that will allow regulators in G20 countries to aggregate and track OTC derivative transaction data.

Etrading Software, in partnership with Coefficient Markets, is also a leading digital software provider to multinational corporate loan market participants. The sell-side desktop technology (EPIC) and execution platform (EPIC MIRROR) give financial institutions operating in the corporate loans market a data aggregation tool that enhances workflows, delivers efficiency gains to users and brings electronic execution to the loan market.

LDC's investment will support Etrading Software to continue growing its range of technology-enabled services and to expand its offering of data services internationally. LDC is backing the existing management team, led by CEO Sassan Danesh, who founded the business in 2004.

The transaction was led by Joseph Fison, supported by Alex White and Francesca Speke. Joseph Fison and Alex White will join Etrading Software's board, alongside fintech industry veteran Emanuel Mond, who has been appointed as Chairman and brings more than 25 years experience of building capital markets technology platforms.

Sassan Danesh, CEO of Etrading Software, said: "LDC's investment will cement our position as one of the leading technology providers to global capital markets. One immediate benefit is to strengthen our proposition for creating a Consolidated Tape market data infrastructure for increased market transparency in the UK and Europe."

Grant Wilson, Managing Director of Etrading Software, said, "I am excited to be focusing on expanding Etrading Software services in the loans business through our partnership with Coefficient Markets. Coefficient leverages Etrading Software's technology development, platform business management, as well as our deep knowledge and expertise of the financial markets, to deliver intuitive front office solutions that can be seamlessly tailored and scaled across use cases."

Joseph Fison, Investment Director at LDC, added: "Etrading Software's market leading proposition has made it an integral part of the capital markets ecosystem. Its expertise in operating critical market infrastructures gives it the perfect platform to support public authorities and market participants in implementing future regulatory mandates such as a consolidated tape for market data. We look forward to working with the team as they embark on the next stage of their growth journey."

LDC was advised by PwC (Corporate Finance), Goodwin Procter (Legals), RSM (Financial and Tax Due Diligence) and ICAG Partners (Commercial Due Diligence). Etrading Software was advised by Norton Rose Fulbright, Quantuma, Rickard Luckin and D.A. Davidson.

———————————–—————————-

About Etrading Software

Etrading Software is an independent, global provider of technology-led solutions designed to assist financial institutions and industry initiatives to address highly complex and constantly evolving market and regulatory challenges. Etrading Software designs, builds and operates technology solutions for the front office for fixed income OTC markets, allowing clients to keep full governance and control using transparent and vendor-neutral solutions. Working with consortia through a mutualised approach, Etrading Software provides firms with the flexibility to not only meet new market and regulatory requirements but also continue to maintain and enhance such mutualised solutions while retaining control of the associated intellectual property and governance. Etrading Software has a European and Asian presence, with headquarters in London. For more information, please visit the website.

About LDC  www.ldc.co.uk/pressrelease

1. LDC is the private equity arm of Lloyds Banking Group and is authorised and regulated by the Financial Conduct Authority.

2.   LDC has committed to invest in at least 100 mid-market businesses over the next five years.

3.   LDC has a portfolio of 90 businesses across the UK, across a broad range of sectors including in Technology, Financial Services, Healthcare, Construction & Property, Industrials, Retail & Consumer, Travel & Leisure and Support Services.

4.   LDC has a nationwide network of regional offices to provide a local presence to the businesses and communities it supports.